The Ministry of Agriculture and Rural Development (MARD) held a ceremony in Gia Lai Province on September 16 to announce the export of the first batch of Vietnam-grown passion fruit to Europe under the European Union-Vietnam Free Trade Agreement (EVFTA).
Accordingly, the batch weighing 100 tonnes was shipped to the Netherlands by the Dong Giao Foodstuff Export Joint Stock Company.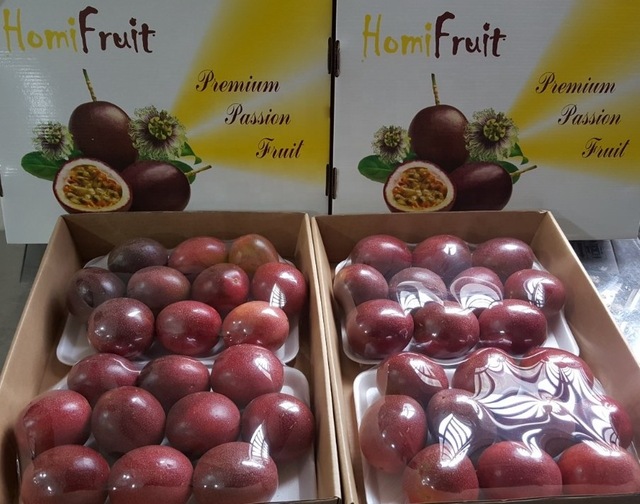 Speaking at the event, MARD Deputy Minister Le Quoc Doanh spoke highly of the significant efforts made by Dong Giao – one of the country's leading enterprises in the field of farm produce production, processing and export, especially with regard to fruit.
With passion fruit, the ministry expects the company to continue developing sustainably and effectively, expanding its production and processing scale, and gradually conquering foreign markets, thereby affirming the quality and solid position of Vietnam's agriculture in the international arena, he said.
Doanh asked localities, particularly Gia Lai, to continue creating favourable conditions for fruit and vegetable processing businesses to invest in expanding intensive processing factories and the building of material areas, in addition to encouraging people to comply with proper production processes and ensure food safety as well as strengthening the inspection and supervision of compliance with regulations in production, harvesting, preliminary processing, preservation and processing.
Over the past five years, Vietnam's passion fruit export volume and turnover have expanded by more than 300%, bringing Vietnam into the world's top 10 largest passion fruit exporters, below only Brazil, Peru, and Ecuador. Until now, Vietnamese passion fruit has been exported to the markets with strict quality, quarantine and food safety requirements, including France, Germany, the Netherlands, the Republic of Korea, Taiwan (China), and Switzerland. The MARD is currently negotiating to open the market for Vietnam's fresh fruit passion fruit into other major markets, such as Australia, China, Japan and Thailand.
Dong Giao's products are now present in more than 60 countries, and have conquered demanding markets, such as the US, Japan, China and especially Europe. Many products from passion fruit are being made by the company mainly at its Doveco Gia Lai factory, including passion fruit juice concentrate, NFC passion fruit juice and frozen passion fruit pulp. In addition, Dong Giao is actively growing fresh fruit according to European export standards such as fresh banana, passion fruit and especially the MD2 pineapple.
After the ceremony, delegates toured the passion fruit seed production area and the export passion fruit processing and packaging plant at Dong Giao's Doveco Fruit and Vegetable Processing Centre.